James Casserly from Dublin, has cerebral palsy and juvenile arthritis, he has a positive outlook on life and is an inspiration to many people around him for numerous reasons. Three years ago James asked to Run Dublin City Marathon, this started a journey for him that has seen him inspire, enthuse and motivate lots of people to overcome their own challenges through running and fitness.
Over the past 3 years, Team James has grown and evolved into something particularly special, what started out as a request from James to run Dublin City Marathon to raise funds for Barretstown, to watching a Team grow around him and James encourage other assisted runners and persons with different abilities to get out there and just keep moving forward with the thought of 'everyday may not be a good day but there is good in everyday.'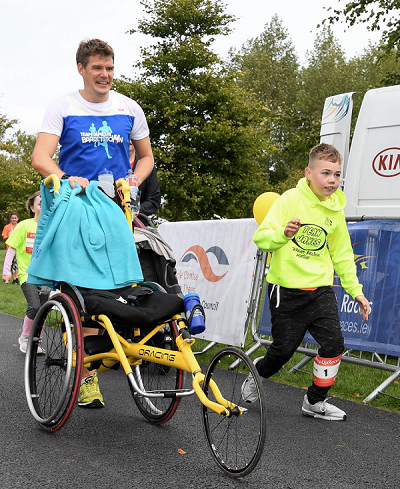 To date, Team James have raised with a lot of support circa €95-€100k, with all funds going to Barretstown which is a very special place to James. Since diagnosis, James has been fortunate enough to attend camps which have allowed James to be James and not James with a diagnosis and everything that goes with it. Barretstown has instilled James with confidence, friendships, happy memories and above all some #seriousfun.
Why Galway?
Well James and his Daddy Dan will be participating in the Run Galway Bay Half Marathon, with his Mammy Vicki, and his two Aunties Ali and Jenny giving the 10km their best shot! Galway is James' favourite place to visit so he is really looking forward to the route! This is the first time James will have taken part in Run Galway Bay.
What's Next?
Shortly after, James and his Dad will be taking on James' 3rd Dublin City Marathon, but his first Dublin one with his Dad. He is very excited to be back out on the course again. His favourite thing about the races, running aside, is the support of the crowds who cheer them along!

We are delighted to welcome Team James to Galway and look forward to seeing them out on the route.