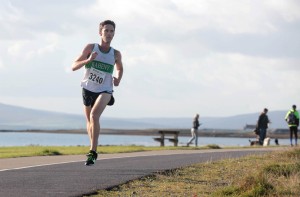 Picking the perfect running shoe for your feet can sound like a chore, so why not let someone else tackle the impossible? Elverys staff will guide you through the process in store, ensuring you leave with the right protection and comfort. With a large selection of footwear styles, colours and prices it should be easy to find a pair for your unique needs. If still unsure what to look out for here are some top tips on how to get it right when it comes to footwear.
Take your time 
It's worth setting aside some time to purchase new footwear. This will allow time to ask Qs, make an informed choice and really get what you want. Think of it like buying a car, you wouldn't do it in 5 minutes and with any luck your new shoes will be taking you on just as many journeys!
Out with the Old
Cushioning in most walking or running shoes only lasts around 800km. A top tip is to make a note of the date when you buy your next new pair so you can track when you should replace them. Watch for wear on the sole of the shoe, when the rubber is clearly reduced it is time to change.
Size matters
It is advisable to leave about a thumb width between the top of your big toe and the end of the shoe. It's perfectly normal to wear a running shoe that is at least half a size larger than your everyday shoes.
Comfort
Nobody knows more about what feels right on your feet than you do and there is no single 'best shoe'. Differences like biomechanics, weight, training surfaces and shape of feet mean that one person's ideal shoe can be terrible for another so don't be afraid to try on a few brands.
Don't break the bank
To ensure your purse strings aren't pulled too tight Elverys are offering exclusive shoes to their customers, notably the new Asics range. These are more reasonably priced but maintain their trademark Asics features and benefits. Why not ask about the Luminus, Glorify and Indicate models now available in store and online www.elverys.ie?
Remember prevention is better than cure so save yourself the injury and prepare the right way.