As predicted, Team Manuela numbers have swelled in the past two weeks. Now getting close to 800, the goal of having 1,000 people wearing the famous green Team Manuela top is fast becoming a reality.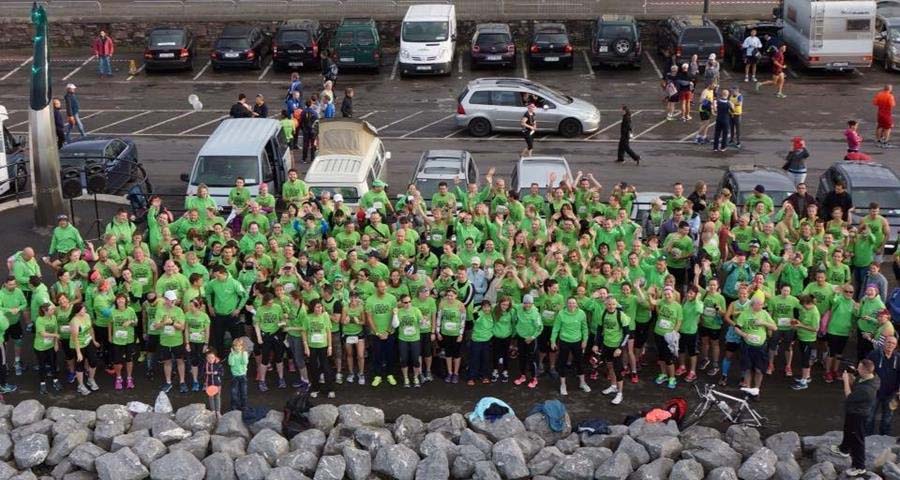 Picture the scene: a sea of green, determined, focused and making a real difference, covering Nimmo's Pier. A team bonded on the start line, ready to take on the biggest single charity event the Manuela Riedo Foundation has seen.
The team will be joined by Hans Peter and Arlette Riedo, who are travelling to Galway, the place where their beloved daughter Manuela was tragically killed. And once again, the entire city will open their arms and embrace this remarkable couple to mark the 10th anniversary of Manuela's death.
The Relevance of Run Galway Bay to the Riedos
The Run Galway Bay event has a touching relevance to the Riedos, as they have often said that they feel Manuela's presence and spirit in the skies and winds above Galway Bay. The Claddagh Ring emblem of loyalty, love and friendship, a symbol of Galway, adorns Manuela's gravestone in Hinterkappelen. The Claddagh also holds a reminder of how happy Manuela was in the last photograph taken of her, smiling broadly, close to the Spanish Arch with the fast-flowing River Corrib and the Claddagh basin in the background.
Team Manuela
Because of the Riedo's visit to the event and the increased numbers participating in the 10K, the organisers have kindly offered Team Manuela its own 10K start wave.
Team Manuela's Shane Lennon said "To know that the target of 1,000 people joining the team is now nearing reality means a lot to the foundation. We are confident that the visual impact that Team Manuela will create on October 7th will be a poignant reminder to everyone affected by sexual assault that they are not forgotten. We are taking on this challenge not as a team, but as a movement, and on the day of Manuela's 10th anniversary we will be there for them and we will make a significant difference. That is a guarantee."
The organisers have converted some of the Team Manuela Half Marathon allocation to the 10K, so there are still places available. Join the movement. Join Team Manuela today.