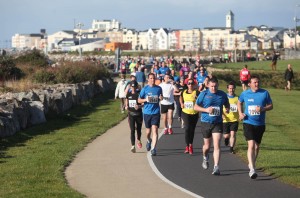 Instead of fearing unpredictable Irish weather Elverys Intersports are instead preparing you for it. Days are getting shorter and season change is imminent so what should you be wearing while preparing for Galway Bay 2015?
Layer up
The best way to dress to battle the elements is layering. Layering allows you to adjust to the weather on the go. Layers trap air around the body providing heat. Sweat can move through the layers due to the technical features of the material. These fabrics are made of polyester and allow perspiration to be wicked away from skin to outer layers and then evaporate.
Base layer
The layer closest to your skin and is designed to keep you dry and warm. This layer is commonly known as a second skin due to its recommended tight fit.
Insulating layer
The middle garment and is worn over the base layer. It serves to find the perfect balance between trapping air, releasing moisture and temperature regulation. Polyester t-shirts, long sleeve tops or light fleeces usually work well.
Outer layer
The protective shield against the elements – rain, wind, snow. Opt for lightweight, seamless tops and bottoms that minimize chafing and maximize wicking. For upper body choose a jacket and for lower body choose a fitted pair of tights under a wind or water repellent track pants or shorts. Remember to choose functionality in breathability, performance, and fit.
Weather Dependent:
Warm
 Choose lightweight, breathable and moisture wicking fabrics that are specifically designed to keep you cool. You do not want your body to overheat so opt for some light layers and if required you can take them off and tie it around your waist. Ladies, you should wear shorts or Capri leggings with a t-shirt, singlet or tank top. Men, you should choose shorts and a t-shirt, singlet or vest. Decide if you want to wear sunglasses or a peaked hat if the sun is strong and don't forget some sun screen!
Cold
Your best bet is to wear a pair of leggings or shorts over leggings – this will help to keep muscles warm, protecting them from any potential injuries. On top choose any combination of these items and layer them as desired – baselayer, t-shirt, longsleeve top, fitted top, breathable jacket.  Remember don't overdo it, you will warm up once you get moving.
Wet & Windy
Choose what is most comfortable on bottom – leggings, shorts or both and go for your top of choice with a lightweight breathable jacket over. It is a good idea to wear a jacket with a zipper for this layer, so that you can regulate your temperature by zipping it up and down or take it off and tying it around your waist.