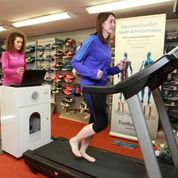 Regardless of whether you aim to walk, jog or run your chosen distance for Galway Bay you cannot do so without utilizing your feet. So finding the right protection and comfort for them is a must. At Elverys Sports you will not only find a great selection of styles, colours and prices but also expertise and guidance towards the right pair for your unique needs. This is where our FREE Gait analysis and FootBalance service can help you, and it's quick and easy! By wearing the correct shoe you can kick on and achieve your own personal goals.
What is Gait Analysis?
Gait = pattern of movement of the limbs during locomotion, i.e. the manner of walking/ running. Gait Analysis = analysis of the manner of walking/ running.
What are the benefits of having a Gait Analysis?
Every individual has a unique gait pattern so getting advice on the correct footwear ensures ultimate comfort & protection. It allows you to see if there are any issues with your walking/ running style which can be addressed by providing you with the correct footwear. This in turn will help reduce your risk of injury.
How is Gait Analysis performed?
One of our expert staff will get you to walk/ run on treadmill and record a clip for 30-60 seconds. They will then analyse & explain video recording – foot type, foot strike & most ideal footwear will be given. A range of footwear will be suggested & can be tried on.
What is FootBalance?
FootBalance is a custom made insole which aims to increase health, foot comfort and overall performance. They help support your feet properly to prevent over-pronation and improve overall foot function. With FootBalance you get a complete in-store foot analysis and custom moulded insole which personalises your footwear.
What are the benefits of FootBalance?
They help prevent and reduce foot and body misalignments. They also provide your feet with added comfort and support in footwear. Come in store and avail of this fantastic service. Sport For Life!