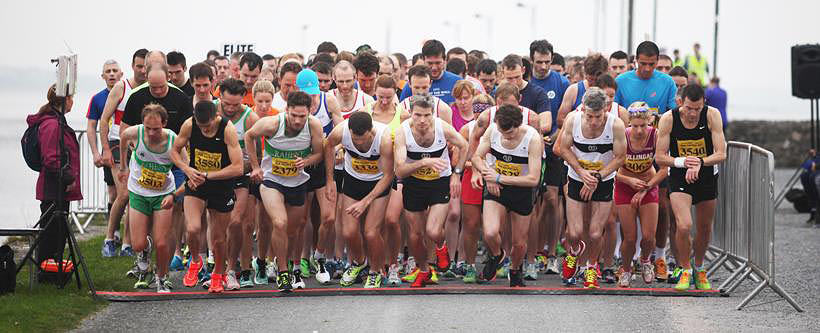 Thousands of runners lined up along the famous Claddagh quay on the edge of Galway City for the start of Run Galway Bay in perfect running conditions last Saturday. For the fifth year in a row a Moldovan claimed the Men's Half Marathon title, but this time it was Sergiu's friend Roman who stormed home in a course record time of 1:06:04 while Galway City Harrier, Grainne Ní Uallachain took the women's title clocking 1:27:13.
Elite Athletes battled it out in the full marathon resulting in a tight finish with Barry Minnock doing just enough to hold off Gary O'Hanlon both finishing under 2:30 with Brian Leahy finishing third. The women's marathon winner was a very happy and surprised Nicola Cosgrave running her first sub 3:30 marathon.
The 10K winners were David McCarthy in 31:15 and Siobhan O'Doherty who finished in 35:10. Following in Gary O'Hanlon's footsteps from 2013, David then also lined up in the half marathon and posted a time of 1:07:43 to come in 3rd – Incredible!
The event also offered a generous team prize fund of €2,000 which was scoped by Donore Harriers for the men who came in second, fourth, fifth and seventh and a local win by Galway City Harriers women's team was celebrated for the second time in a row.