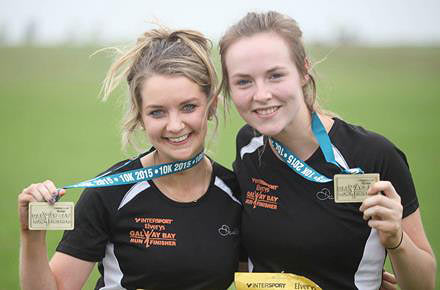 The addition of a Full Marathon distance to the annual Run Galway Bay has propelled this event into a completely different league.
The event is now established as one of Galway's key annual events attracting visitors from all over the world.
There was a scramble for entries in the last few weeks as the Marathon and 10K sold out weeks in advance of the event date.
Just under 3,000 people crossed the finish line across all three distances and an estimated 1,000 spectators came out to cheer the runners and walkers on.
The addition of the full marathon proved to be a massive success this year and added to the overall atmosphere attracting some legendary athletes from the Irish Marathon field including Wheel Chair athlete Jerry Ford, originally from Galway but living in Cork, who is now working his way toward completing his 400th Marathon. Elite Athletes battled it out in the full marathon resulting in a tight finish with Barry Minnock doing just enough to hold off Gary O'Hanlon both finishing under 2:30 with Brian Leahy finishing third. The women's marathon winner was a very happy and surprised Nicola Cosgrave running her first sub 3:30 marathon.
Race Director, Ray O'Connor commented "There's something very special about having elites and first timers rubbing shoulders on a start line, so for me, adding the full marathon distance this year, brought a huge amount of excitement culminating in a sell-out event four weeks out. Staging the three races on the same route was challenging logistically, but it worked perfectly and we are confident now, that we can grow the event numbers again next year."
The flat course is favoured by elite runners aiming for a fast finish time but equally loved by novice runners who want to enjoy some of the most superb scenery that the West of Ireland has to offer.
For CEO of Cancer Care West, Richard Flaherty, the increased numbers taking part in the event was good news with €5 from every entry going directly to the charity. 'Cancer Care West has benefited greatly from the support of the Galway Bay Run since it began in 2003, and the funds raised through entry fees, sponsorship and donations have helped us to fund our services each year'.
The atmosphere was incredible throughout the event this year with Our Team's energetic warm up and cool down sessions ensuring that all participants minimised their aches and pains by stretching properly before and after their run.